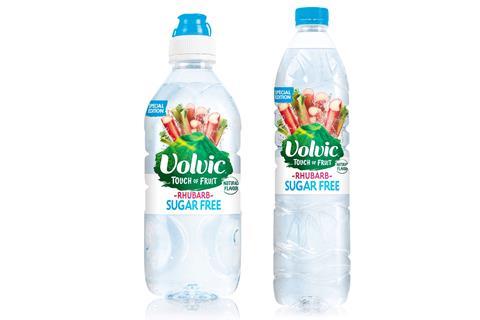 Volvic is bolstering its Touch of Fruit Sugar Free range with the launch of a special edition Rhubarb flavour.
The new variant will be available nationwide from March in both 750ml on-the-go (rrp £1.15) and 1.5ltr take-home formats (rrp £1).
Volvic brand manager Maria-Tzina Leria said: "We're excited to bring Volvic Touch of Fruit Sugar Free Rhubarb to our customers. Inspired by traditional British flavours, we have worked hard to get the recipe right - the result is a refreshing tangy complimentary flavour.
"Taste is essential, but it doesn't mean it has to be high in sugar. We know more than ever that consumers are aware of their sugar intake and actively trying to reduce it where possible, seeking better options. People are looking to brands and manufacturers to help make health-conscious choices accessible, and our Touch of Fruit Sugar Free range offers this without compromising on taste."
The launch will be supported by a 360-marketing activation from May and backed by an investment of £2.1m across the wider Touch of Fruit portfolio.
Leria added: "Our 360 campaign lands in time for summer, a crucial time for retailers to grow their soft drinks sales, and we're here to support them in making the most of the opportunity."