VK is getting Christmas-ready by adding a limited-edition candy cane festive flavour to its mixed multipack.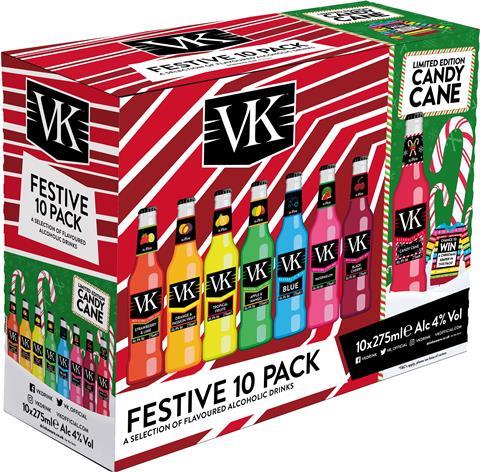 Bright red with notes of strawberry and peppermint, the new sku forms part of VK's #WeAreMerry Christmas marketing campaign.
The 4% abv candy cane flavour will be included in the brand's mixed ten pack (rrp £12) for a limited time only. The pack is stocked by Costcutter, Spar and McColl's and is available to independent retailers now via the wholesale channel.
It contains two 275ml VK candy cane bottles alongside a selection of existing flavours, including: VK blue; VK watermelon; and VK orange & passion fruit.
To give consumers an extra festive treat, hundreds of golden tickets have also been added to randomly selected mixed packs. Those who find a golden ticket will be able to claim via social media their own official 2019 VK Christmas jumper.
Charlie Leaver, brand manager at brand owner Global Brands said: "With this year's new Christmas flavour, our highly sought after VK Christmas jumpers and our on-trend marketing activity, we expect the VK mixed pack to excel this winter.
"Set to provide significant revenue for our customers while delighting consumers with a new Christmas twist on the fruity VK flavours' they know and love the VK mixed pack is a must stock for retailers."