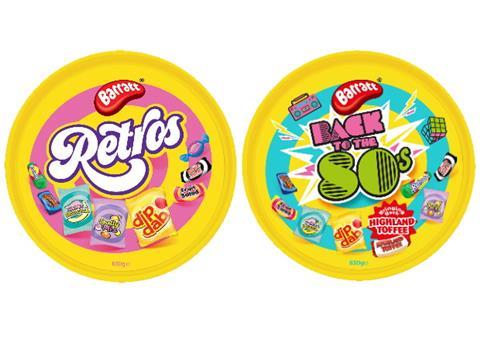 This Christmas retailers can help consumers relive their childhoods with Barratt's new Retros Tub and Back to the 80s Tub from Valeo Snack Foods.
The Retros Tub (630g, rrp £3.50) includes a mix of individually wrapped Barratt favourites such as Wham, Fruit Salad and Black Jack chews, Refreshers, Dip Dabs, Shrimps & Bananas, Dolly Mix and Anglo Bubbly.
The Back to the 80s tub (630g, rrp £3.50) features the same mix, but Anglo Bubbly is replaced with Highland Toffee.
The tubs join York Fruits, which the company expects to perform well this Christmas, having recently had a packaging revamp.
Russell Tanner, marketing and category director at Valeo Snack Foods, said: "Christmas is a key sales period and displays and seasonal aisles contain more confectionery than ever.
"We're expecting that many are hoping to go all out with celebrations given last year's muted festivities.
"Parents look forward to sharing sweets with their children at Christmas and 68% of sweet eaters enjoying sharing sweets they had as a child with their family [Mintel Sugar Confectionery Report 2020]. Many consumers will be eager to indulge in the sweets they loved when they were younger, and introduce their favourites to their own children.
"We expect the Barratt tubs and tapered cartons to fly off shelves this year, offering a great selection of retro classics, suitable for confectionery lovers generations old and new."
All products in the Valeo Christmas range come under £5, making them affordable gifts that drive incremental sales through last minute gifting and impulse purchases, claims Valeo.