The Urban Fruit range has undergone a rebrand in a bid to attract a younger audience to the adult fruit snacking category.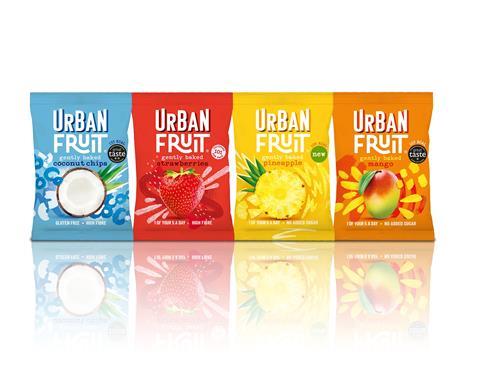 Rolling out on both snack and sharing packs, the designs include prominent fruit imagery alongside clear nutritional benefits for each variant, making it simple for shoppers to identify their favourite flavour.
"The adult dried fruit category is currently being dominated by own label and has seen a recent decline of -1.3% YoY (IRI)," said Jo Agnew, marketing director at Urban Fresh Foods Ltd.
"The opportunity to inject growth back into the category is through branded offers that can demonstrate real value and differentiation from own label."
The brand's sustainability credentials will now also be highlighted on pack, where relevant. Its production of pineapples and mangos in Ghana, for instance, is 100% waste-free at source and is managed by the local community through the process of block farming, according to Urban Fruit.
The Urban Fruit range includes gently baked flavours, including: Coconut Chips, Strawberries, Pineapple, Mango, Cherry and Raspberry.
The rebrand will be supported heavily in 2020 with in-store and online activation, digital, sampling, field sales, press and PR activations.
Urban Fruit is available to buy across grocery, convenience and wholesale channels.