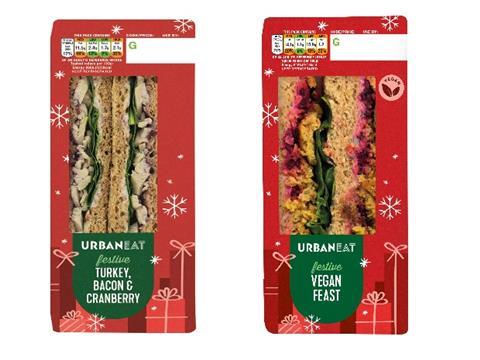 Urban Eat has brought back its three limited edition, festive favourites for the Christmas season.
Turkey, Bacon & Cranberry; Vegan Feast; and a Pigs Under Blankets panini are available in out of home and convenience until 23 December.
The Turkey, Bacon & Cranberry sandwich provides the classic turkey option – always the most popular festive product – and is a combination of meat with stuffing, cranberry sauce and spinach in malted bread.
With demand for plant-based seasonal options increasing every year, Urban Eat will also help food-to-go outlets tap into this market with the Vegan Feast sandwich – falafel, braised red cabbage, cranberry chutney and spinach in malted bread.
The Pigs Under Blankets panini – pork sausage, cranberry chutney and smoked bacon in a ciabatta is designed to be served hot and aims to capitalise on the growing trend for hot snacks.
Urban Eat marketing director Katy Holder said: "Our Christmas sandwiches always prove a huge hit, and the 2020 range is set to be no different. We've designed a line-up that will help food-to-go outlets meet a range of customer tastes and needs – from classic turkey to a vegan option, and even a twist on a Christmas Dinner favourite."