Franklin & Sons is introducing a new flavour collection tonic water four pack into Nisa and Co-op stores.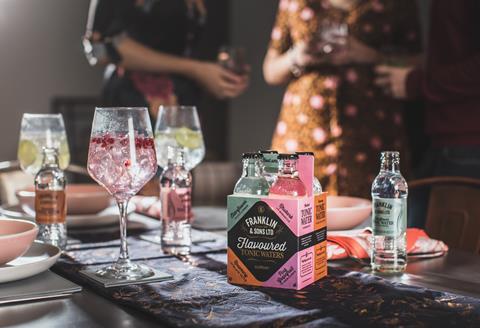 Available in four flavours: Rosemary Tonic Water with Black Olive, Pink Grapefruit Tonic Water with Bergamot, Rhubarb Tonic Water with Hibiscus and Elderflower Tonic Water with Cucumber, the new 4 x 200ml bottle format carries an rrp of £3.50 each.
The dual flavoured tonic waters can be used alongside a wide range of spirits, designed to capitalise on consumer trends for experimentation and the popularity of gin products.
Jen Draper, marketing director for Franklin & Sons, said; "We developed this new basket pack for Co-op-supplied customers to take and share with friends, whether at a dinner party or when at home entertaining. The Flavour Collection opens up endless possibilities for creating unique drinks and has been designed as an alternative to taking the usual drinks when meeting up with friends.
"We want to encourage more people to become every day connoisseurs, discovering the very latest trends, but more importantly understand how they can access and even replicate them at home. The innovative Rosemary Tonic Water with Black Olive, for example, pairs beautifully with a sweet vermouth and brings to life the taste of summer drinks on the Amalfi Coast of Italy."