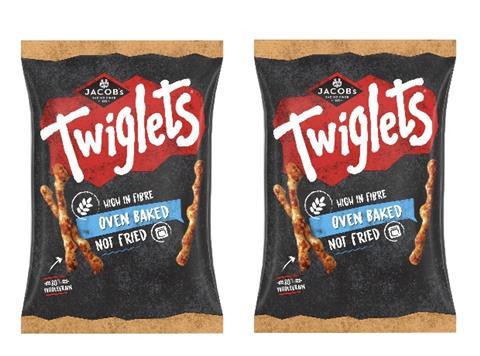 Pladis has updated the recipe for Jacob's Twiglets to make it HFSS-compliant.
This reformulation comes alongside a fresh new look across the entire Jacob's Twiglets portfolio. The redesign will put greater emphasis on the benefits the snack can offer shoppers – such as its fibre content and high levels of wholegrain, plus communicate the fact the product is oven baked, not fried.
Rolling into stores nationwide now, the revised recipe and updated packs will replace the entire existing Jacob's Twiglets range – including multipacks, sharing bags and caddies
Leighton Wall, marketing director – savoury, at Pladis UK&I, said: "Like the rest of our portfolio of savoury snacks, Jacob's Twiglets have recruited a legion of fans thanks to their characteristic flavour. This meant updating the recipe was not something we took lightly.
"However, after comprehensive consumer testing, we're confident that we've hit the mark. The new Jacob's Twiglets recipe doesn't just retain the brand's familiar taste – it enhances it – and our improved recipe will help us offer even more non-HFSS choice to shoppers.
"Meanwhile, wholegrain goodness and high fibre content have always been essential components of creating Jacob's Twiglets' great taste. Now, we've made these benefits the star of our new packaging and will be actively taking these important messages to shoppers."