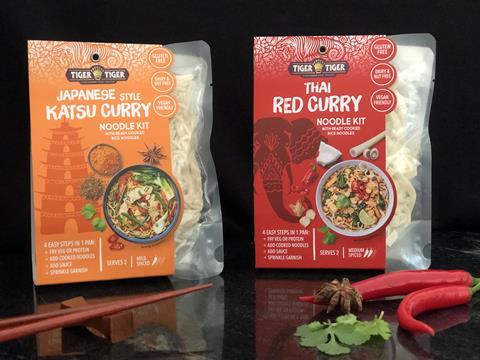 Tiger Tiger, the specialist East Asian foods brand, is launching a range of free-from noodle kits, which will be available in the convenience channel from July.
Based on traditional recipes but with a contemporary twist, the six flavours include: Thai Lemongrass & Lime; Japanese-style Teriyaki and Yakisoba; Korean-style Kimchi; Thai Red Curry and Japanese-style Katsu Curry. All variants have an rrp of £2.99 and are gluten-, dairy- and nut-free, and suitable for vegan diets.
"The rapid rise in consumer demand for taste adventure and free from, combined with the popularity of replicating restaurant-style meals at home, means that there is now a huge opportunity for retailers to capitalise on these growing trends," said Tiger Tiger sales & marketing director Debbie King. "Until now there has not been a range of Asian-inspired, free from noodle meal kits available in the UK as they tend to have been only Thai-based, so we're delighted to be bringing all these wonderful flavours to market while also meeting the needs of our health conscious free-from consumers."
The "chef-approved" noodle kits, which are made at source in Asia, require only ambient storage and contain ready-cooked rice noodles, sauce and a garnish. Consumers need only to add their vegetables or protein of choice, one pan and a few minutes to create a meal for two.
A brand refresh is due to roll out later this summer and additional support for the brand will include high profile PR, advertising and social media campaigns, and a new look website.