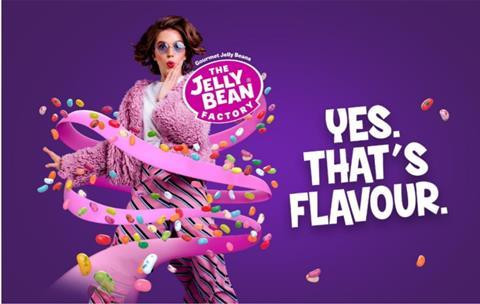 Cloetta is brightening up The Jelly Bean Factory with new flavours, new packaging designs and a new slogan.
The Jelly Bean Factory welcomes four new flavours to its Gourmet Mix: Salted Caramel, Forest Fruits, Peach Bubble Tea and Cherry Blossom Soda. Alongside these new flavours, the brand has also introduced a new sustainable packaging design, and an all-new slogan: "Yes. That's flavour."
The new flavours will join classic Jelly Bean Factory flavours such as Butterscotch, Wild Cherry, English Blackberry, Caramel Popcorn and Pina Colada. Each of these flavours has something new and unique to offer, and their announcement marks the end of a period of extensive market research. 30 different flavours were tested across the globe, before finally narrowing the list down to the four most popular ones.
The newcomers replace four flavours that were identified as polarising through customer feedback. These are Mint, Coffee, Liquorice and Cinnamon. By removing these flavours, the aim is to make The Jelly Bean Factory accessible to more consumers than ever before.
The jelly beans are 100% vegetarian, allergen free, and are crafted with natural colours and flavours.
In addition to these four new flavours, The Jelly Bean Factory is also launching an 18-Flavour Fruit Mix, specifically for fans of the brand's fruitier flavours. Replacing the previous Fruit Cocktail Mix and Berry Burst Mix, it will sit alongside our 36-Flavour Gourmet Mix. Flavours include classics like Strawberry Smoothie, Mango, Blueberry and Raspberry, as well as new Forest Fruits and Cherry Blossom Soda.
To reflect the changes to these products, the brand has also refreshed its packaging, which now includes a resealable opening and modernised its logo.
Consumer reception to this new design has been incredibly positive so far. 80% of the people the brand surveyed said they would buy a bag with the new design, while 92% said that they found the new design attractive.