The Collective is launching a second cocktail-inspired yogurt as part of the brand's on-going Happy Hour campaign.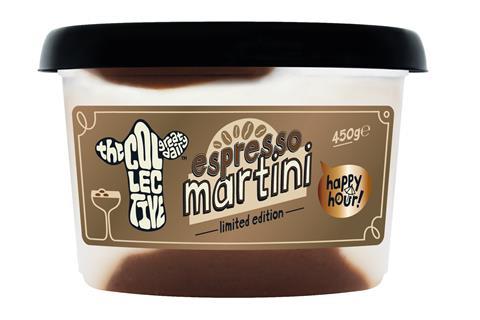 Available to Nisa retailers, the introduction of the Espresso Martini pot (rrp £2.19 / 450g) follows the roll out of The Collective's Piña Colada yogurt earlier this year.
Combining live gourmet yogurt with a blend of Colombian coffee beans and a dash of vodka, the limited edition variant will hit shelves from early August.
The product is also free from artificial colours, flavours or preservatives and is suitable for vegetarians, those with a gluten intolerance and is made using British milk and live cultures.
Amelia Harvey, co-founder of The Collective, said: "Following the success of Piña Colada, we're so excited to launch the next flavour in our Happy Hour range, Espresso Martini.
"Happy Hour epitomises what we're all about as a brand; combining our award-winning taste with a 'feel good' campaign that will sure put a smile on consumers' faces, as we bring their ideal happy hours to life in homes and offices alike with our fun social media campaign."
Harvey added: "The Collective is known for creating innovative flavours, with this limited edition the brand offers consumers that perfect permissible indulgence. In addition, statistics show that alcohol consumption is declining, so the new launch offers consumers a chance for indulgence without the alcohol content of a cocktail itself."
To support the Happy Hour collection, The Collective is running a marketing campaign featuring shopper marketing activity, PR, digital advertising and social media content.