The Collective has taken the Piña Colada cocktail as inspiration for its new gourmet yogurt, launching as part of its new Happy Hour campaign.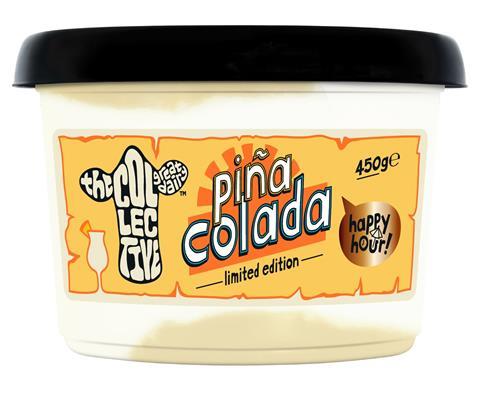 Designed for the summer season, the new flavour is the first in a series of cocktail-inspired products that the brand will be rolling out between now and 2020.
The launch of the limited edition live yogurt also forms part of The Collective's new campaign, which includes shopper marketing, PR, digital advertising and social media activity based on the Happy Hour theme.
Amelia Harvey, co-founder of The Collective, said: "We're so excited to be taking our gourmet limited editions to the next level with this year's Happy Hour theme. Happy Hour epitomises what we're all about as a brand; combining our award-winning taste with a 'feel good' campaign that will sure put a smile to consumers' faces as we bring their ideal happy hours to life in homes and offices alike with our fun social media campaign.
"We know that now more than ever, consumers are searching for that moment or time, in a day, that brings them happiness and our new Piña Colada gourmet live yoghurt as well as the exciting Happy Hour flavours we have in the pipeline will do just that!"
The Pina Colada flavour features two layers of pineapple and coconut with a touch of Jamaican white rum, giving the yogurt a tropical twist.
Sold in 450g pots (rrp £2.19), the limited edition product is available to Nisa and Budgens retailers now.