Britvic is investing in its Tango brand with the introduction of three new sugar free flavours, a packaging redesign and a £2.2m marketing campaign.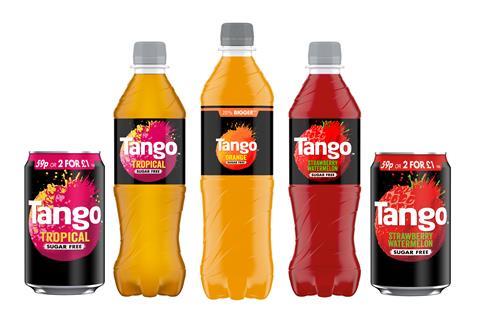 Available in-store from this week, new flavours: Tropical and Strawberry & Watermelon, will roll-out alongside an improved recipe for the brand's sugar free Orange variant.
The three-strong range is designed to attract younger, more health conscious consumers and will sport new look packaging.
The flavours will also be supported by the biggest spend the Tango brand has seen in eight years, with a new TV ad this summer as well as sampling, digital and in-store activation.
Trystan Farnworth, commercial director for convenience and impulse at Britvic, said: "As shopping habits change and consumers continue to look for healthier soft drink options, Tango is keeping sugar free options exciting by branching out into Tropical and Strawberry & Watermelon flavours.
"These will be the perfect summer refresher for people on the go, with the multi-buy price-marked cans and bottles helping retailers to increase basket spend. The bold new look and feel of the packaging will also provide great stand out on shelf, appealing to younger shoppers, while keeping the fun heritage of the brand which our loyal fan base knows and loves."
Price List
Tango Sugar Free Orange, Tropical and Strawberry & Watermelon
2 litre bottle (rrp £2.29)
600ml bottle (rrp £1.39)
500ml bottle (rrp £1.39)
500ml price-marked bottle (£1 or 2 for £1.70)
375ml bottle (rrp 99p)
330ml can (rrp 67p)
330ml price-marked can (59p or 2 for £1)