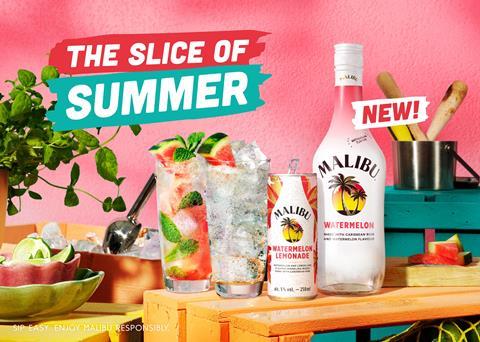 Malibu has launched two new products in time for summer.
Malibu Watermelon is available in a 70cl bottle with a 21% ABV and an RRP of £15 while Malibu Watermelon Lemonade comes in 250ml cans have an ABV of 5% and an RRP of £1.80.
Malibu Watermelon Lemonade is designed to take advantage of the growing ready to drink market. The pre-mixed drinks category is growing +26.8% YOY while the Malibu can range is growing +50.2%, over double the rate of the pre-mixed drinks can category (19.2%), according to Nielsen data.
Channel Director at Pernod Ricard UK Chris Shead said: "Malibu is a true icon of summer and with flavoured spirits on the rise, the brand's latest innovations are sure to be a sizzling hit. We're delighted to be extending our current can offering at a time when the ready-to-drink market is booming, and Malibu's RTD range has gone from strength to strength over the last three years, helping to recruit younger shoppers into the brand. These two new additions to the Malibu family are primed to take this summer over by clearly answering consumer needs for great tasting drinks, suitable for all daytime occasions."