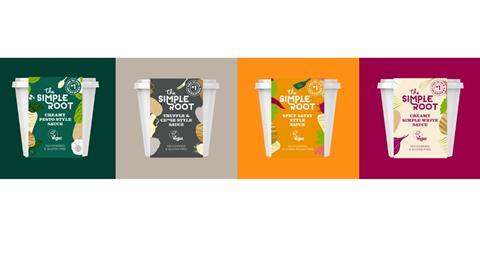 The Simple Root has launched a new range of 100% plant-based cooking sauces.
The first products from The Simple Root to launch to market will be a range of fresh cooking sauces, including Creamy Pesto Style Sauce, Spicy Satay Style Sauce, Truffle & Ch**se Style Sauce and
Creamy Simple White Sauce (rrp: £3.95). The Simple Root range will also expand over the next twelve months to include Plant-Based Dips, Cheeses & Desserts.
Louise Wymer, UK CEO, said: "Cooking sauces are a very traditional category. They often contain high levels of sugar, salt and fat, and can sit in the cupboard for months. Over the last 20 years, we've seen many categories move from jars, tins and packets to fresh, including soup, juices, and most recently chocolate. It's now time for the cooking sauces category to be brought up to date, and made for how people want to eat now: fresh, plant-based and better-for-you."