Sci-Mx Nutrition has created new Pro 2Go Caramel Crisp to offer the taste of a chocolate bar with the nutrition of a protein bar.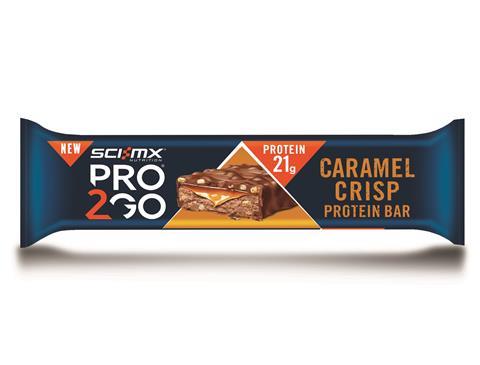 The bar aims to rival the taste of standard confectionary bars, but with high levels of protein and the right macronutrients to support muscle development.
The bars contain a nougat base, covered with caramel, topped with soy crispies and coated in milk chocolate. Natural xylitol has been added for sweetness without excess calories.
James Alexander-Ellis, Sci-Mx athlete and pro muscle model says: "One of the toughest parts of staying in shape is avoiding those cravings for junk food! These bars are amazing because they do taste like a chocolate bar — but contain a good macronutrient profile that I can fit into my strict diet."
Each bar contains 21 grams of milk protein which provides a natural blend of whey and casein for a fast and sustained supply of amino acids to muscles. The crisps also contain soy protein which is high in arginine and glutamine and easily digestible.
Each 65g bar contains 253 calories, 21g protein, 20g of carbs, 8g of fibre, 10g of fat and 7.4g of sugar.