Mondelēz has released its Cadbury Dairy Milk 30% Less Sugar to rave reviews from convenience retailers, following a tasting session at Bournville, Birmingham.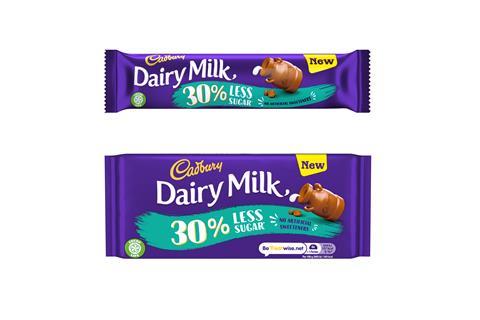 Available now, the product comes in 35g single bar (rrp 65p) and 85g tablet (rrp £1.49) formats and contains no artificial sweeteners.
Mondelēz states that more than a third of consumers are actively cutting down their sugar consumption, making reducing sugar one of the biggest priorities for shoppers.
The launch follows three years of development by the firm's science and innovation teams in Reading and Bournville, the home of Cadbury. Harnessing leading edge understanding of flavour technologies and material science, the company claims to have replaced the sugar with fibre in a way that reduces the sugar while staying true to the texture and taste profile of Cadbury Dairy Milk.
The launch will be supported by a £2m spend on out-of-home and digital marketing activity, including impactful in-store materials such as eye-catching SRPs and POS units to help retailers capture the attention of shoppers at launch at beyond.
Avtar Sidhu (aka Sid), who owns St John's Budgens in Kenilworth, Warwickshire, said: "Personally, I think Cadbury have hit the nail on the head here. Within mainstream chocolate, Cadbury is taking a lead with reduced sugar and we'll display them side by side [with the full sugar variant]. I understand the remit, but tasting it, it transcends that boundary. It melts in the mouth, it's really smooth and creamy."
Sunder Sandher of One Stop Leamington Spa, Warwickshire, added: "The 30% less sugar chocolate is awesome. I think you'll see incremental sales. As a new product, we need to get staff behind it and really push it, it's a really quality product. Once people buy it and try it, they'll buy into it."
Katrina Davison, brand manager for Cadbury Dairy Milk, concluded: "Our teams have worked for years and conducted extensive testing on the new recipe so we're confident shoppers looking to reduce their sugar intake will love new Cadbury Dairy Milk 30% Less Sugar.
"The new bars are a new addition, not an alternative to the wider range and so should be ranged among the rest of the Cadbury Dairy Milk portfolio. Retailers should stock up now to ensure they're making the most of this exciting new lower sugar addition!"