Mondelēz International is bringing 100% of its chocolate and biscuit products typically bought for children and families under 100 calories.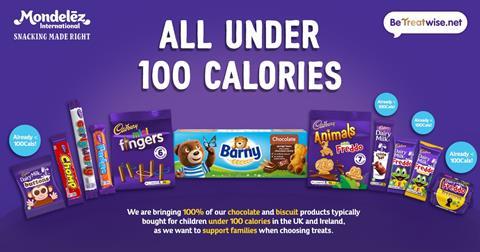 The new 100 calorie cap will apply to portion-controlled packs of some of the company's best-known products including: Cadbury Fudge, Cadbury Curly Wurly, Cadbury Chomp, Barny and Cadbury Mini Fingers.
Mondelēz claims that the initiative will see billions of calories removed from the UK and Ireland confectionerty market over the next few years.
Bars of Fudge, Curly Wurly and Chomp and Barny sponge bears will be brought under 100 calories by the end of 2020, while bags of Cadbury Mini Fingers and Cadbury Animals are set to comply with the new calorie cap from September onwards.
The chocolate giant is also aiming to implement calorie change to Oreo Mini snack packs and Freddo Face Cakes before the end of 2021.
Louise Stigant, UK managing director at Mondelēz International, said: "We want to play our part in tackling childhood obesity and are focusing on the areas where we can make the greatest impact.Our brands have been around for hundreds of years and play a special role in people's lives as treats to be enjoyed in moderation. We want to support parents when they choose to give their children a treat and introducing this calorie cap will make it simpler for them to find a treat under 100 calories that children will enjoy."
This latest calorie announcement follows Mondelēz's decision to introduce a 250 calorie cap on all single-serve chocolate bars in 2014.
The company recently launched a number of less sugar and lower calorie additions across its chocolate and sweets portfolios, including new products from its Cadbury Dairy Milk and Maynards Bassetts brands.