Red Bull is bringing a new coconut berry flavour to the UK, as part of its growing energy drinks offer.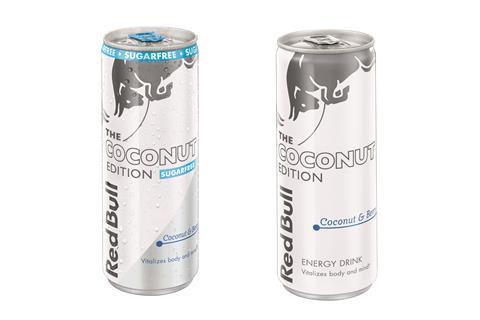 The new editions product, sold in plain and price-marked packs, comes packaged in 250ml white cans and is available in both regular and sugar free variants (rrp £1.29 and £1.25 respectively).
The coconut berry flavour was previously a limited edition sku in other markets outside the UK but consumer demand has prompted Red Bull to make the product a permanent part of its global drinks portfolio.
Mark Bell, strategy & planning manager for Red Bull, said: "As the top performing energy drink brand, we understand the importance of bringing on-trend flavours to the category. The launch of coconut berry edition provides consumers the chance to experience the first coconut & berry flavoured energy drink in the UK.
"Retailers can add value through expanding their Red Bull portfolio whilst adding excitement to the category. Providing a sugar free alternative also meets the growing demand for low and no sugar options and allows customers to choose how they wish to consume their energy. This continues our strategy to allow shoppers choice in each and every Red Bull pack produced, with this new flavour option available in both energy and sugar free variants."