Red Bull is celebrating the success of its 'Project Pro' summer campaign, featuring cricketer Ben Stokes as one of the brand's key athletes, after England's win at the 2019 Cricket World Cup Final.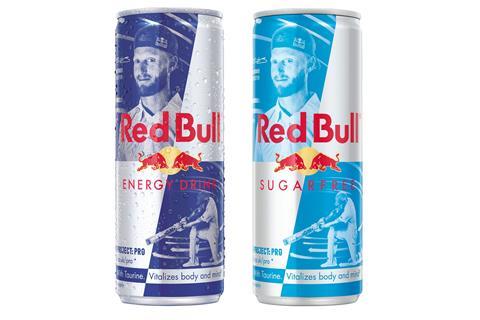 Cans of Red Bull featuring Ben Stokes sold at a rate of more than half a million a week during the Cricket World Cup, totalling three million through the duration of the tournament [IRI Weekly data to 5 w/e 29 Jun, 19].
Supported by a multimedia marketing campaign, including a Ben Stokes TV advert, the Red Bull Project Pro on-pack activation launched in June and will run across the convenience channel throughout the summer.
Six limited edition cans are available as part of the campaign (in regular and sugarfree 250ml singles and 4 x 250ml packs), featuring on-pack images of six pro athletes, including: Ben Stokes; rugby player Jack Nowell; climber Shauna Coxsey; snowboarder Billy Morgan; triathlete Lucy Charles and hockey goalkeeper Maddie Hinch MBE.
To participate in the activation, consumers can visit www.redbull.co.uk/pro where they will be able to join a four-week programme via the Red Bull Project Pro Facebook Messenger platform.
A Red Bull spokesperson commented: "We are stoked to see Project Pro has made a positive impact on retailer sales with the high profile of the Cricket World Cup and the success of pro athlete Ben Stokes.
"From the start of the Cricket World Cup and his catch against South Africa to his performance as part of the team in the final, we have some great insight into the popularity of the can. As the summer progresses we look forward to finding out how consumers will continue to embrace the training tips and connect with the pro athletes to enhance their training."