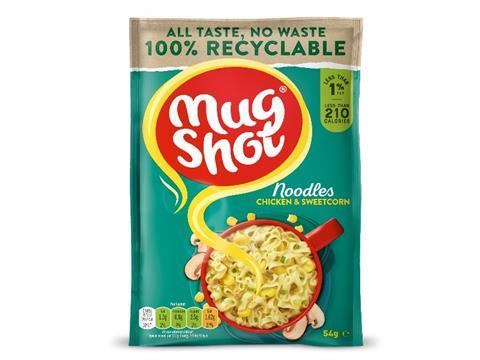 Symington's has introduced brand new, 100% recyclable packaging across its Mug Shot range.
The new design will help remove 37 tonnes of plastic per year, with the brand making the changes with consumers' desire for more environmentally-friendly packaging and recyclability front of mind..
Brand manager at Mug Shot Emma Boyle said: "We're really excited to announce the mass rollout of the new 100% recyclable Mug Shot sachet, and to be the first instant hot snack to offer this to consumers. We understand that a lot of people will be looking at how they become more sustainable in their day-to-day lives, especially when thinking about their New Year's resolutions in January. We want to help our customers to reach their goals and recycle more of their household packaging.
"We've also made sure that none of Mug Shot's taste or quality has been compromised when developing this change. Inside you'll still find the same delicious flavours with the same health credentials you would expect of the Mug Shot brand."