Ready Brek's 'Central Heating for Everyone' advert and promotion are returning this month as part of the brand's end-of-year marketing push.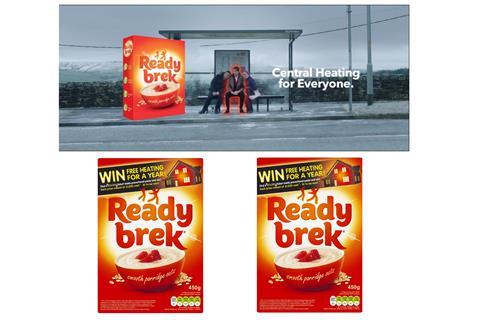 The campaign is the firm's biggest support for more than six years and themed advertising will run across national TV platforms, with accompanying YouTube activity targeting on-the-go consumers.
The ads will be supported by an on-pack promotion offering consumers the chance to win 'free heating for a year', with golden tickets hidden in promotional packs (see below).
In-store promotional activity, as well as social media support (including Ready Brek Facebook and Instagram posts), will also help encourage consumers to take part in the promotion and drive sales for retailers.
Nanda Desai, brand manager for Ready Brek, said: "Last year's campaign was a huge success, contributing to our fantastic sales increase, so we've brought it back and amplified even further. The 'Central Heating for Everyone' advert was the first time we'd been on TV for five years and really brought Ready brek back to the forefront of consumers' minds, encouraging shoppers to talk about the brand again. We are looking forward to exploring new channels and reaching even more people this time around.
"Made with wholegrain oats and nothing else, Ready Brek Original boasts all green traffic lights, as well as no added salt or sugar. The rise in awareness of the health benefits of oats has certainly increased demand, with more and more people making healthier choices at breakfast. Ready brek is a must-stock product to tap into this growing trend, especially as we enter the cold season."
Ready Brek is available in a range of variants and formats:
Ready Brek Original 450g (rrp £1.98)
Ready Brek Original 750g (rrp £2.49)
Ready Brek Chocolate 450g (rrp £1.98)
Ready Brek Original Sachets 8 x 32g (rrp £1.99)