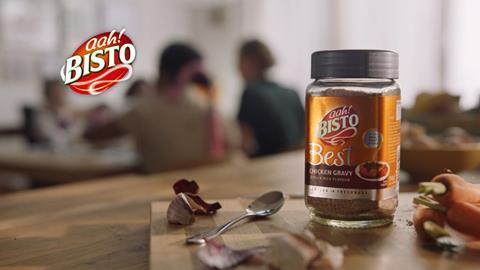 Bisto is back on TV with its first new ad creative in six years, as part of a £4m campaign.
The new campaign is part of an effort to drive relevancy among a new generation of consumers and hero its premium Bisto Best range. Running until March 2022, the Bisto TV advert airs during The Great British Bake Off, with the campaign also including a partnership with Global Radio.
Savan Sabharwal, marketing controller for Bisto at Premier Foods, said: "Our latest campaign will help us continue to strengthen brand perceptions among new and existing shoppers, whilst delivering relevancy and consideration of Bisto Best for a broader range of meals, particularly among a new generation of gravy consumers. Now is the ideal time to do just this, with Christmas this year set to be extra special. Given the challenges and restrictions of the last year, being together with our loved ones over the seasonal period will be more important than ever before, and we know that Bisto has a role to play at the heart of many of these occasions.
"By hero-ing Bisto Best within our TV creative, we're helping to encourage shoppers to experience our more premium offering – driving category growth and additional basket spend. We know that brands like Bisto played an important role during pandemic mealtimes, as people turned to products they trusted and which could provide comfort during challenging times. Our opportunity now lies in retaining these new shoppers and continuing to highlight the broad usage occasions for the brand. As we head into the key gravy season, our in-store support will also play a key role. This will see us activate our biggest Christmas yet in terms of displays, to truly get shoppers behind the brand this festive season."