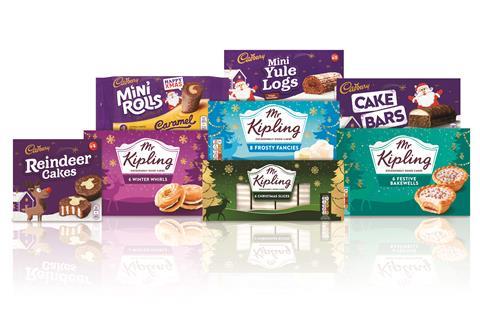 Premier Foods has got into the festive spirit with the return of its seasonal ranges.
Available now, the range features classics such as Mr Kipling Mince Pies, Frosty Fancies, Cadbury Mini Yule Logs and Reindeer Cakes.
Mathew Bird, brand director for sweet treats at Premier Foods, said: "Our aim is to support retailers at this time with an established seasonal range from two of the nation's best loved cake brands. Cadbury is the second biggest brand within packaged cake at Christmas and is ideally placed to help retailers drive value into the category, while Mr Kipling continues to deliver exceedingly good results. The brand's Frosty Fancies proved a huge hit with shoppers last year, growing +39%; and our Mr Kipling novelty slices alone delivered over £400k in 2019.
"Whilst the impact of Covid-19 will bring many new dynamics in terms of behaviours and sales to the festive season, we predict that people will continue to look for brands they trust to help celebrate with family – as many shoppers have done throughout lockdown. Our popular Christmas range from Cadbury Cakes and Mr Kipling is bound to help new and loyal customers get into the festive spirit."
Premier Foods festive range
Limited edition Cadbury SKUs:
• Festive Cake Bars 5pk - £1.00
• Mini Yule Logs 5pk - £2.00
• Reindeer Cakes 4 pk - £2.00
• Caramel Mini Rolls 8 pk - £1.50
Limited Edition Mr Kipling SKUs:
• Frosty Fancies - 9pk £1.50
• Winter Whirls – 6pk £1.00
• Festive Bakewells – 6pk £1.50
• Reindeer Slices – 8pk £1.50