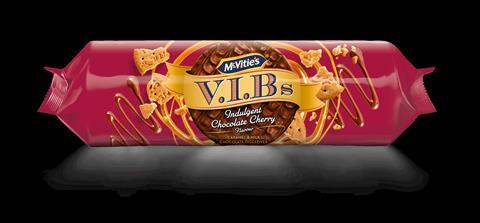 Pladis is expanding its McVitie's V.I.Bs range with the launch of Indulgent Chocolate Cherry.
McVitie's Indulgent Chocolate Cherry V.I.Bs will be launching in the convenience and wholesale channels from July.
This new variant joins the existing McVitie's V.I.Bs line-up – Classic Caramel Bliss, Heavenly Chocolate Hazelnut and Luscious Blood Orange.
"We're encouraging shoppers to enjoy some much-needed me time with a cup of tea and a biscuit that's a permissible indulgence," said Emma Stowers, McVitie's marketing director at Pladis UK. "Our McVitie's V.I.Bs are already encouraging 'everyday treat' shoppers nationwide to trade-up and treat themselves, whilst helping retailers boost revenue in the process.
"Since launch, McVitie's V.I.Bs have had a key role in welcoming new shoppers – particularly younger shoppers – to the McVitie's brand. In fact, McVitie's V.I.Bs over-index with under 45s compared with Everyday Treats sub-sector as a whole. What's more, cherry flavoured products are hot property at the moment – and NPD incorporating this flavour grew by +23% over the past year."