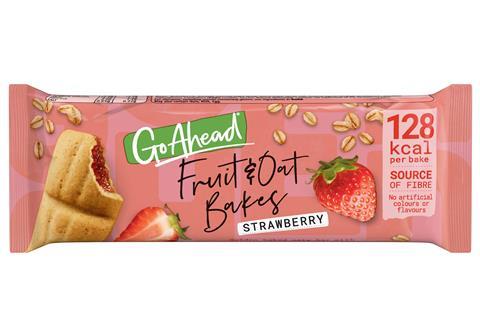 Pladis is introducing a new recipe for its Go Ahead Fruit & Oat Bakes.
Comprising the same soft sponge, packed full of the brand's signature fruity filling, the non-HFSS range reformulation will see the introduction of a more nutritious recipe that will help retailers tap into the refreshed demand for Healthier Biscuits.
Now with a reduction in saturated fat which means the product is classed as 'low in saturated fat', the updated Go Ahead Fruit & Oat Bakes recipe also contains less sugar. Each portion-sized bake remains a source of fibre and will come in at 128 kcals.
Go Ahead non-HFSS Fruit & Oat Bakes will be available from the end of February across multiple retail, convenience and wholesale (RRP: £1.59).
"Health and wellbeing continue to play an important role for Brits and as more people return to offices and workplaces, the future for Healthier Biscuits – which so often cater to the 'on-the-go' need state – is looking rosy," said Fran Hiebert, senior brand manager – Go Ahead at Pladis UK&I. "In fact, we're already witnessing a strong uptick for on-the-go consumption occasions, which is great news for our Go Ahead brand.
"Healthier Biscuits are perfectly placed for grab-and-go snacking – and Go Ahead is already one of the top 5 brands in healthier snacking. Taking all of this into account, we've spotted an opportunity to drive share and help our retail customers unlock incremental sales by updating some of our popular recipes and adding even more of the health benefits we know consumers are looking out for."