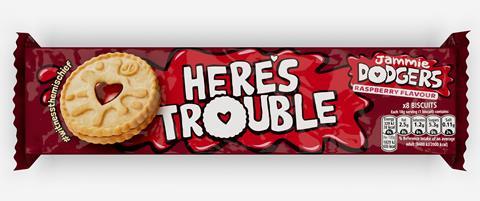 Burton's Biscuit Co has announced a new campaign for Jammie Dodgers biscuits.
Rolling out from 11th May, the brand's logo will be replaced on pack by a series of funny and relatable phrases chosen to resonate with families and their moments of mischief. The limited edition 140g packs will also feature the campaign hashtag #WitnessTheMischief and a QR code, encouraging families to share their own moments on social media.
"We all know how busy life can be but this the campaign will look to bring families together by creating mischievous moments of fun and togetherness. It will remind the nation's biscuit lovers that Jammie Dodgers are fun, playful, and mischievous – a treat that doesn't take itself too seriously," says Kate Needham, Burton's Biscuit Co's marketing director.
"#WitnessTheMischief will elevate the everyday snacking occasion by tapping into the successful trend for bespoke packaging. We're bringing it into the biscuit fixture with a disruptive campaign that is certain to excite consumers and attract attention to the category in store."
The characterful phrases will feature across approximately 4 million packs. The 'packtivation' will also be amplified by nation-wide in-store activity and social media activity on TikTok.
The firm claims that Jammie Dodgers is worth over £26.3m RSV with over 36m packs sold last year.