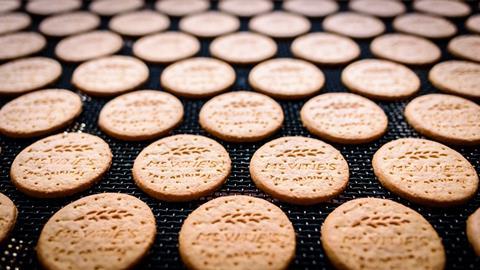 Pladis has urged retailers to focus on the core range to continue what has been an "incredible year" for the biscuit category.
In the Pladis Annual Biscuit Review of 2020, the category grew 7.2% in value terms, growing £212m to £2.96bn, driven by shoppers returning to classic 'biscuit barrel' products. Pladis predicts the category will hit the £3bn milestone by the end of 2021.
"It won't shock anyone to learn that the pandemic had a meteoric impact on the way British people shop," said vice president of customer at pladis UK & Ireland Scott Snell. "Biscuits had an incredible year amid a tumultuous 2020. And, while there were certainly winners and losers in this mix, overall, biscuits began to play an increasingly important role in consumers' lives.
"This category has always been important to shoppers, and biscuits are purchased by virtually all British households (99.5%), but last year we saw more people reacquainting themselves with the category and buying in more frequently to complement an uplift in hot drink moments at home.
The report found that the Top 10 Biscuit Brands significantly outperformed the sales success seen the year before (+12.1% in 2020 vs +3.4% in 2019). In money terms, the Top 10 Biscuit Brands represented £1 of every £5 spent in the category – with seven of the Top 10 recording double-digit value growth.
"Last year I said the importance the biscuit category's core range should never be underestimated – and during 2020 we saw just how heavily the category relies on its success," added Snell. "Core biscuit category products – like branded bestsellers – should be central to any retailers' ranging strategy as these are the products shoppers seek out time and time again.
"In the convenience channel this is particularly important as 80% of biscuit sales come from just 8% of products (IRI) It's crucial all retailers keep the shelves stocked up with these products as we can count on them to sell through and deliver growth."
Pladis advised retailers to:
Acknowledge 'savvy shopper' behaviour by Communicate value for money at fixture
Ensure shoppers can indulge at home by growing the range of special treats
Focus on driving impulse purchases online by making relevant categories a greater focus in the convenience channel to drive these purchases when online shoppers visit stores.
Expect a resurgence of Healthier Biscuits post-lockdown so incorporate Healthier Biscuits helping weight management into range
Use NPD to excite consumers and drive growth
Don't forget the core and focus on the correct space allocation for bestselling branded products. In convenience, retailers should stock the Top 10 biscuit lines as a priority.
Prepare for a big Christmas in 2021 by listing key gifting and treating Christmas biscuit lines early to take advantage of increased shopper demand.
Prepare for changes to rules and regulations by working with manufacturers to identify the changes and their potential impact on the biscuit category. Allocate space to best performing products to avoid out of stocks and bring fixtures to life through in-aisle theatre and engagement.
| | Brand | Company | Category | Value Sales | Value Change (Y-O-Y) |
| --- | --- | --- | --- | --- | --- |
| 1 | McVitie's Chocolate Digestives | pladis Uk | Everyday Treats | £104,517,102 | 20.5% |
| 2 | KitKat | Nestlé Rowntree | Chocolate Biscuit Bars | £89,987,334 | 21.4% |
| 3 | McVitie's Jaffa Cakes | pladis Uk | Everyday Treats | £54,843,943 | 4.9% |
| 4 | McVitie's Digestives | pladis Uk | Everyday Biscuits | £51,060,408 | 25.6% |
| 5 | Oreo Cookies | Mondelēz International | Everyday Treats | £39,522,719 | 23.1% |
| 6 | McVitie's Rich Tea | pladis Uk | Everyday Biscuits | £34,590,624 | 16.8% |
| 7 | Belvita Breakfast Soft Bakes | Mondelēz International | Healthier Biscuits | £32,299,352 | -15.3% |
| 8 | McVitie's Club | pladis Uk | Chocolate Biscuit Bars | £31,128,320 | 17.2% |
| 9 | McVitie's Chocolate Hobnobs | pladis Uk | Everyday Treats | £30,769,759 | 18.2% |
| 10 | Nakd Bar | Lotus Bakeries | Healthier Biscuits | £30,599,936 | -21.7% |
(Source: Kantar Total Take Home Grocery Sales 52w/e 27.12.20)