Merchant Gourmet, maker of healthy pulses, grains, seeds and chestnuts, is aiming to give consumers a taste of the Middle East with the launch of its latest pouch: aromatic Persian-style quinoa & lentils.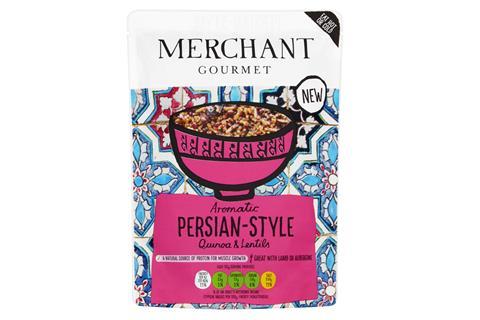 The ready to eat product is available now in 250g packs (rrp £2). Made using traditional produce including kibbled onions and raisins with a mix of quinoa and lentils, the Persian-style pouch taps into demand for world flavours.
Like the rest of the Merchant Gourmet range, the product is a good source of protein and fibre and features a blend of plant-based ingredients to appeal to those looking for healier food options.
Nyree Chambers, head of brand for Merchant Gourmet, said: "We wanted to develop a product that was not only delicious but in keeping with our promise of sourcing authentic ingredients from around the world. The new aromatic Persian-style quinoa and lentils will give time poor, food-conscious consumers the opportunity to add variety to their meals and explore even more authentic flavours and tastes."