Getting ahead of the wellness trend, Perkier is launching a new range of quinoa bars packed with chicory fibre - a prebiotic scientifically proven to enhance gut health.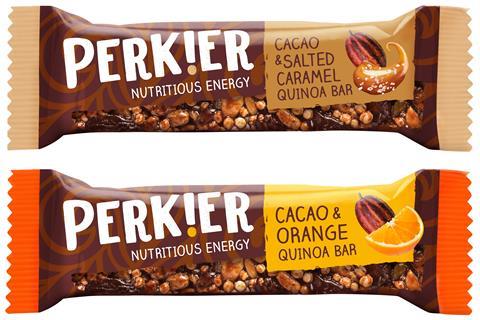 The 35g bars also feature a mix of peanuts rich in vitamin B3, cacao and fruit pieces. Available in cacao & salted caramel and cacao & orange flavours, each bar in the range contains 5g of chicory fibre, 6g of protein, fewer than 140 calories and less than 5g of added sugar.
Like the rest of the Perkier range, the new quinoa bars are plant based and free-from gluten, wheat and dairy. The products are also 100% palm oil free with an rrp of 95p each.
"We are super excited to be launch another breakthrough innovation. So tasty, and yet we know we're packing in so much goodness, to help deliver both mental and physical wellbeing for our lovely consumers to feel truly perky," said Ann Perkins, founder of Perkier.
Clarissa Lenherr, London nutritionist, added: "They taste out of this world and deliver a substantial dose of prebiotic fibre to improve gut health. Gut health is such a seminal wellness topic and has a direct influence on immunity and mental health. I'm loving throwing
Launching in Epicurium on 17 June and available for convenience stores to order nationwide, Perkier's new bars will be supported by an integrated marketing campaign with social media, influencers, press advertising and PR.