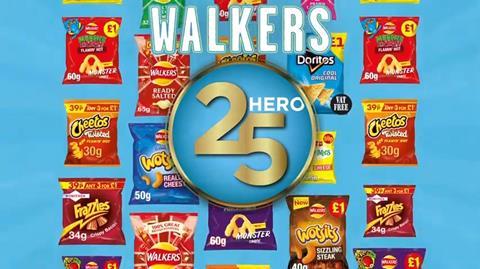 Walkers has refreshed its c-store ranging strategy, replacing its Hero 20 with a Hero 25 range, which features its best-selling lines, and introducing a new Drive 25 range, which offers extended range options for medium and large stores that want to add more breadth to their offer.
The Hero 25 range makes up 35% of all sales in symbols and independents and includes Walkers crisps, Doritos, Monster Munch, Quavers and Wotsits, claims PepsiCo. "We've optimised that range to reflect the latest shopper habits," explained impulse category director Guy Harvey. "They're the best selling lines and we've put much more focus on pricemarked packs and we've focused more on multipacks to cater to more stock up and top up missions that we're seeing in the channel."
Drive 25 is a flexible secondary range that can be tailored to an individual store's needs. "This focuses on offering greater breadth through more product types and focuses on our NPD," said Harvey. "It's an area where we can offer a point of difference and excitement to some of our shoppers. It's perhaps the newest element of our ranging strategy and perhaps the most complex. There's a priority matrix, but it's to be adapted on a store by store basis, so if a store, for example, is in a neighbourhood area we'd recommend they list more multipacks, or if they typically sell more pricemarked packs, there's an additional range of pricemarked packs. The idea is that we can offer new need states or refocus on areas that they are performing well in."
He claimed that while the pandemic had already seen many c-stores expand their ranges, they weren't necessarily stocking the right products. "With more people visiting convenience stores [during lockdown] choice became more important," said Harvey. "The average store now lists eight more lines that it did a year ago to try and offer greater choice to their shoppers. That, unfortunately, isn't always on the bestselling products. There are hundreds if not thousands of different lines in symbols' and independents' crisp lines. What we've tried to do through this work is understand where the bestsellers are."
The firm revealed some of the core findings from its research. "One of the most surprising statistics is that 50% of crisp and snack sales in symbols and independents come from just 55 lines," said Harvey. "The worst statistic was the bottom 10% of sales come from 86% of lines so it really shows this huge inefficiency. These 86% of lines obviously don't sell well and they probably have a high chance of wasting, which ultimately isn't profitable for symbols and independent stores." He claimed that retailers needed to focus on bestsellers and watch out for "tail SKUs that don't perform well and can run the risk of you not maximising your profits, but equally cost you money as some of those products might not turn as quickly and waste".
The Drive 25 range will be reviewed every three to six months, but Harvey was quick to offer reassurance that it will not alter dramatically over the next 12 months. "We don't want to introduce too much complexity into people's stores," he said. "We recognise that stores have already increased their range on the back of more consumer choice and we want to make sure that they range the right products. By changing Drive 25 too drastically, it doesn't give shops the right opportunity to maximise the right SKUs that sell the most and ultimately earn them the most profit so there's a considered view that we won't change it dramatically within the year."
In addition to its new range strategy, Walkers has also teamed up with Bestway Wholesale to offer a Win Your Utility Bills for a Year competition, following on from its Win A Van activation last year.