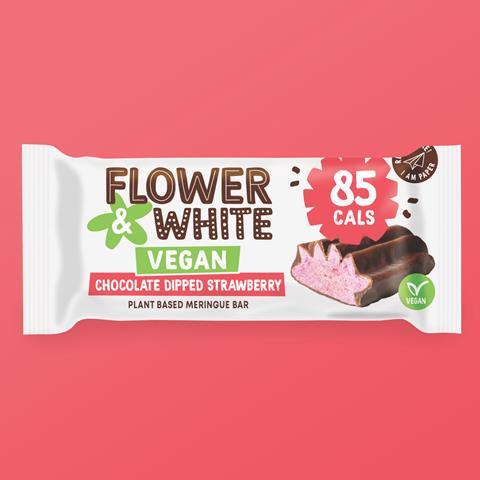 Vegan Chocolate Dipped Strawberry and Double M!lk Chocolate bars are the latest additions to Flower & White's meringue chocolate better-for-you treats range. The firm claims that the bars are being launched in response to the "clear growth of veganism in the UK", and the current demand for healthier, lighter snacks. The bars have an rrp of £14.49 for a pack of 10.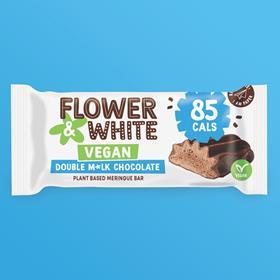 At 85 calories each, the two vegan bars contain marginally less calories than the existing vegetarian options and feature a creamy dairy-free chocolate coating that is 100% dairy free and a unique egg-free meringue filling. As with the rest of the range, both variants are gluten free and come in 100% recyclable packaging. The products contain natural ingredients and no artificial sweeteners.
Flower & White has recently secured a listing in 107 Spar Scotland stores, in addition to an extensive list of speciality, grocery and health independent retailers, farm shops and cafes.
Leanne Crowther, Flower & White co-founder said: "'Live lightly and brightly' is the brand's newly unveiled strapline and this relates to one of our key founding principles, which is to demonstrate a commitment to playing an active part in preserving the precious finite resources of the planet and to be a socially responsible business. Working with fairly paid farmers, shunning palm oil, investing in recyclable paper packaging are examples of this ethos and therefore, the introduction of a vegan offering represents a natural progression for the brand.
"The new vegan bars are designed to appeal to a broad consumer base, including those who are dedicated to following a vegan lifestyle; those who are looking to adopt a more flexible approach to plant-based living; and those who are simply looking for a fabulously indulgent, lighter, and better-for-you snack."