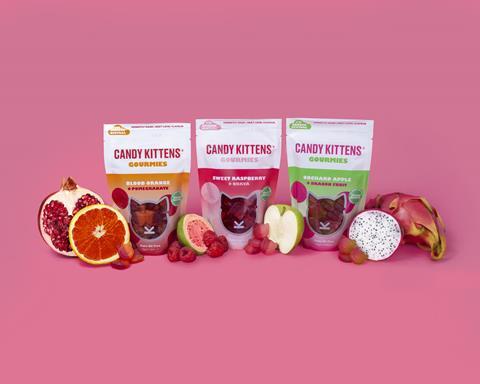 Gourmies are the latest vegan sweets to hit the market from Candy Kittens. Available in Orchard Apple & Dragon Fruit; Sweet Raspberry & Guava; and Blood Orange & Pomegranate flavours, the sweets have an rrp of £2 for a 125g bag.
Gourmies have been designed to suit "grown-up" palates. The new range speaks to millennial backed trends within the food and drink sector, which has seen novel and hybrid flavours gaining popularity as consumers seek dynamic, mouth-watering fruit pairings, claims the firm.
The company, which claims to have increased sales 80% year-on-year, believes that Gourmies' texture appeals to a larger demographic, putting the brand "toe-to-toe with the category's big boys".
Like the entire Candy Kittens range, Gourmies has been created with real fruit juices, no palm oil, no animal gelatin, no artificial colours or flavours and with fully recyclable packaging. The company has also announced that its sweet production is carbon neutral.
Co-founder and md, Ed Williams said: "We set out in 2012 to shake up the category and I'm excited to broaden that challenge with our first sub-range - a vegan sweet that doesn't compromise on texture or taste like so many others. Gourmies gives us everything we love about the traditional gummy sweet, delivered in our signature gourmet style. We've done things people told us weren't possible to get here today and are proud to deliver our first carbon neutral range."