Following success in the UK convenience channel (IRI, MAT to 14/7/19), Nomadic Dairy is moving forward with an updated look and the addition of a new layered yogurt.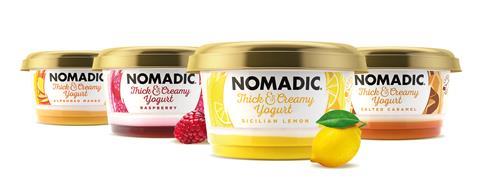 The redesign and NPD is set to drive value in the category, according to Alan Cunningham, Nomadic Dairy's md.
He said: "We have a clear focus on single serve, convenient and portable products - always with a spoon included. Our consumers want 'balance' in both their lives and diet and our yogurts provide just that - natural, delicious, products free from the taint of artificial ingredients and available in single units. Whether it's 'desk-fast', lunch, a post-gym treat or an end to dinner, we've got a pot to match their busy lifestyles."
Nomadic's newest product is a Sicilian lemon flavour for its layered yogurt range (rrp £1.40/160g). It will sit alongside existing variants: raspberry; salted caramel; and alphonso mango.
All products are made from milk sourced from Irish family farms in County Donegal and are available to convenience stores now.