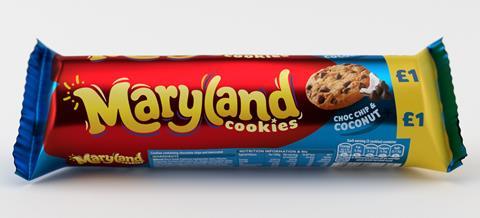 Burton's Biscuit Company has launched a new variant of Maryland Cookies that is available exclusively to the convenience channel.
Available from 1 October, Maryland Choc Chip and Coconut variant will join the existing Maryland Cookies range available in 200g, £1 pricemarked packs.
"In recent years there has been an explosion of new flavours and textures within the biscuit category. The new Maryland Choc Chip and Coconut variant combines the delicious, yet permissible 10g cookie shoppers know and love, with a delicious coconut flavour, ideal for an afternoon or evening treat with the family," said Kate Needham, marketing director at Burton's Biscuit Company. "We believe Maryland Choc Chip and Coconut will be incremental to the Maryland brand and drive category growth by offering an on-trend flavour that will appeal to new shoppers."
The brand recently rolled out the new £1 200g PMP range, replacing 99p 136g PMPs, in an effort to offer shoppers even better value for money as well as drive impulse sales.