Gunna, the British soft drink firm, has undergone a major rebrand which includes the launch of redesigned packaging for its cannned line-up.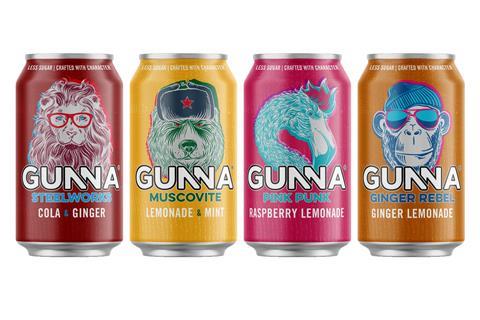 The new look is designed to boost stand-out on shelf and give greater prominence to the characters on each of the four flavours included in Gunna's craft soft drinks range.
This includes: 'Ginger Rebel' (ginger lemonade), 'Muscovite' (lemonade & mint), 'Pink Punk' (raspberry lemonade) and 'Steelworks' (cola & ginger).
The flavour of the drinks are inspired by cocktails or mocktails from around the world. Each variant is made with natural juices and fruit extracts, with no artificial colours or preservatives and a 5% sugar content. The drinks are sugar levy exempt and contain 73 calories per 330ml can (rrp 99p).
Gunna founder and ceo Melvin Jay commented: "We found 'old school' soft drinks lacked style and character, so we set out to 'battle the bland' and liven up this category.
"Now, craft soft drinks like Gunna are transforming the market, driven by the same consumer trends that have fuelled craft beers. To continue capitalising on our growth, this is the ideal time for a more distinctive craft brand image."
To support the revamp, Gunna has also appointed Euro Food Brands (EFB) as its UK and Ireland distributor. EFB works with some high profile food and drink brands, including Illy, V8, Hershey's and Barilla, to deliver products to convenience retailers.