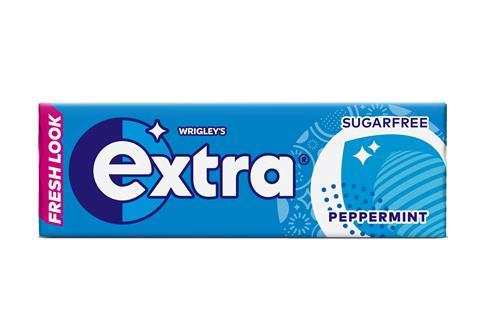 'Find Your Fresh Look', Mars Wrigley's first global campaign for Extra chewing gum, goes live this week. Designed to keep gum top of mind and grow the brand's penetration with under-25's, the campaign supports a rebrand for Extra and includes UK partnerships with online women's clothing shop I Saw It First and sunglasses retailer BadHero.
With nearly 50% of gum consumption coming from Gen Z (Kantar World Panel – TGI sourcing UK), the campaign aims to increase gum penetration amongst this demographic, states Mars Wrigley.
The partnerships with I Saw It First and BadHero centre around consumers finding their own 'Fresh New Look' to start the year. There will be significant multi-channel activity to support this campaign featuring influencers such as Made in Chelsea's Sam Thompson, and Love Island's Shaughna Phillips and Olivia Attwood, alongside a social dating show, 'The Extra Fit' showing on Youtube. Extra is also running a UK wide competition in store to 'Win a New Wardrobe' with I Saw It First, alongside the opportunity to win a variety of other prizes along the way.
The company claims that gum is the most profitable grocery category (Nielsen Scantrack Value Sales 52w/e 21st March 2020) with more than 8.4 million consumption occasions each year (Kantar Worldpanel & Usage Panel, May 2021), so growing the consumer base will be key. This initiative marks the beginning of a series of campaigns for Mars Wrigley, with the aim of reaching the next generation of gum consumers and getting half of the nation chewing gum by 2025.
With this in mind, retailers are being supported to improve gum availability in stores with Mars Wrigley's partnership branded disruptive point of sales and free-standing display units. 46% of consumers reported they will not buy gum if the product they want is not available, and 80% of sales take place within the transaction zone (Kantar Worldpanel+ Shopper Survey June 2020), so impactful point of sales play an important role in visibility and awareness, claims the firm.
Senior brand manager Sasha Storey, says: "This is the first global campaign for Extra. We are excited to be the first market to go live and showcase Extra's brand new look and feel. This is an exciting new area for Extra to build brand awareness and penetration with the next generation of gum consumers. We are heavily investing in the gum category this year supporting our retailers to capitalise on this profitable segment."