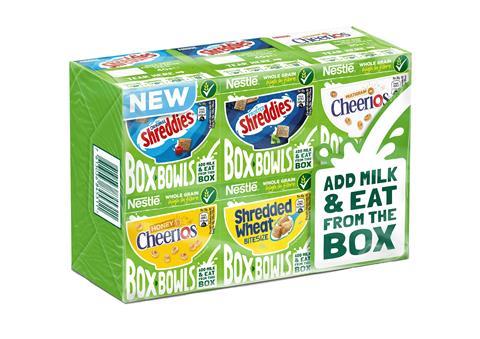 Nestlé Box Bowls, a new multi-pack of cereals that can be eaten straight from the box, is set to launch into c-stores.
The product consists of six single-portion boxes, including: Shredded Wheat Bite Size, Original Shreddies, Frosted Shreddies, Multigrain Cheerios, Honey Cheerios and Nesquik.
Customers can pour milk into the specially-designed bag inside the box, and grab a spoon to enjoy their breakfast at home or on the go.
All elements of the box bowl are recyclable – from the specially designed inner bag that holds in moisture to the cube-like outer carton and over-wrap film.
The new range from Nestlé Cereals is designed to respond to increasing consumer interest in convenient, versatile breakfast options that can be eaten at home, or on the move. According to Nestlé Cereals research, nearly a quarter (23%) of people now want cereals as an out-of-home breakfast option.
Toby Baker, marketing director UK & Australia at Nestlé Cereals, said: "Consumer research tells us that Brits want more variety and convenience at the breakfast table. Our new Box Bowls provide a tasty breakfast choice for almost every day of the week, pre-portioned and ready to eat straight from the box.
"Box Bowls have also been designed to fit around ever busier lifestyles – they can be enjoyed at home, or while out and about. The toughest decision you'll face is which one to choose."
Box Bowls will be available to Bestway, Spar and Nisa-supplied retailers from mid-March, with an rrp of £1.99 per multi-pack. The roll out is being supported by a marketing campaign, including digital advertising and social media content.