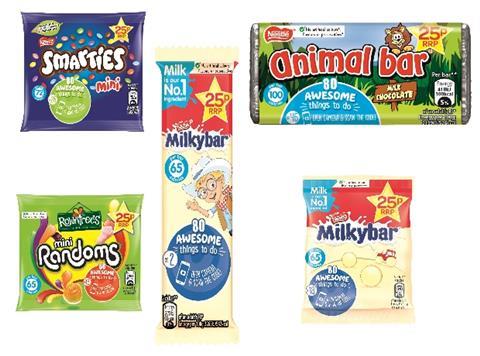 Nestlé Confectionery has unveiled a range of 25p sweets and chocolate products available in plain and pricemarked packs.
The new range comprises small packs of Milkybar Kid bars and pieces, Smarties Minis, Animal Bar and Rowntrees Mini Randoms, each containing less than 100 calories. Nestlé has developed accompanying POS units for the line-up, featuring a large 25p flash.
The company has also revealed an '80 Awesome things to do' on-pack promotion running across the 25p range, as well as on multipacks of Milkybar Kid bars and pieces Minis and Smarties Minis multipacks. Each pack carries a QR code that takes parents to a digital platform where they can find a wide range of family-friendly activity ideas.
These include a mix of creative and active activities, such as 'making wands', 'mini-beasts hunt', 'making a tornado in a jar' or 'doing some marble painting'.
Each code gives access to one main activity. There is also an option to view 'other fun stuff', which includes three additional activity ideas and a link to recipe suggestions.
Rosamunde Hobson, brand manager for Milkybar at Nestlé UK, said: "In today's connected world, parents are increasingly looking for fun ideas of things to do with their family.
"'80 Awesome things to do' enables instant access to a variety of activity ideas, developed to inspire families and facilitate moments of connection. With a wide range of activities, including both creative and active suggestions, there is really something for everyone."
The launch of Nestlé's new 25p treats and on-pack promotion will be supported by a social media campaign.