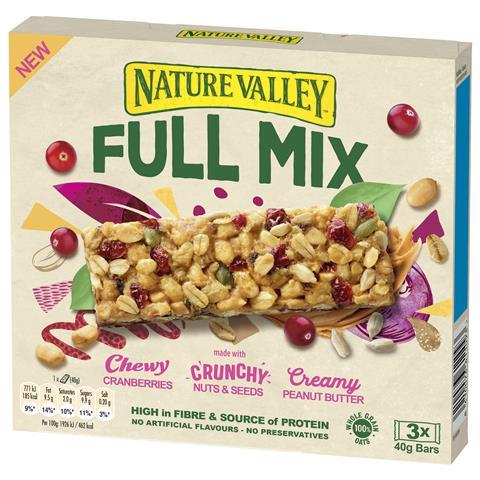 Nature Valley from General Mills is bringing its new 'real food' Full Mix bars to the UK market, after asuccessful US launch last year.
The bars come in two variants - Peanut Butter & Blueberry and Peanut Butter & Cranberry in a multipack format (RRSP: £2.89 with a promo RRSP of £1.50).
The launch is supported by a £1.5million marketing campaign across TV and Video-On-Demand (VOD), social and digital. Activity will be further amplified through sampling, and shopper activation.
Marketing manager for snacking at General Mills Roisin Witort said: "Here at Nature Valley, we're all about identifying and satisfying unmet consumer needs and we really believe this innovation will hit the nail on the head with consumers looking for a truly indulgent, yet wholesome snack with a full variety of tastes and textures in one bar."
"Nature Valley Full Mix is perfect for anyone looking for low processed food with real ingredients they can see and trust, with our market research showing that 69% of shoppers would buy again."