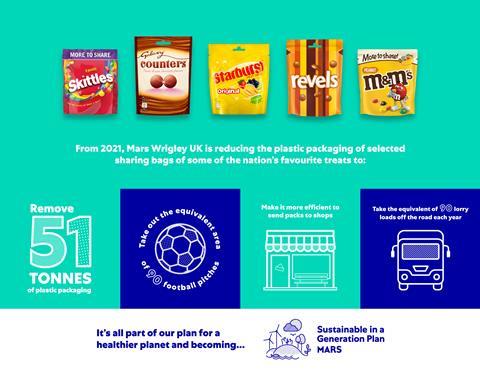 From April next year, selected 'Standard' and 'More to Share' sharing pouches of some of Mars Wrigley UK's favourites, including M&M's, Galaxy Counters, Galaxy Minstrels, Revels, Maltesers Buttons, Skittles and Starburst will be narrower in the UK and Ireland, reducing the plastic used by around 647,000 square metres a year. The new packs will have an average of 10% plastic reduction per pack compared to the current 2020 range.
Nick Reade, sales director and interim general manager, Mars Wrigley UK, said: "Reducing the packaging of sharing packs of some of the nation's favourite treats will save a minimum of 51 tonnes or the equivalent to 90 football pitches of plastic a year. As well as cutting back our plastic use, it means for some brands we can fit more packs into the boxes we ship, increasing our efficiency and taking the equivalent of 90 lorry loads of boxes off the road each year.
"Reducing our plastic use for some of our most popular items is our latest step in our 'Sustainable in a Generation' plan where we're working towards a healthier planet and towards our goal of developing packaging that is 100% reusable, recyclable or compostable, while decreasing virgin plastic use by 25% by 2025."
This is the latest UK step in Mars Incorporated's journey to become 'Sustainable in a Generation' and help create a healthy planet, with more sustainable packaging progress to come across the Mars Wrigley, Food and Petcare businesses in the coming months. The company is working hard to remove surplus packaging, to redesign the packaging to be reusable or recyclable, and to invest to 'close the loop' in supporting a more sustainable, circular economy.