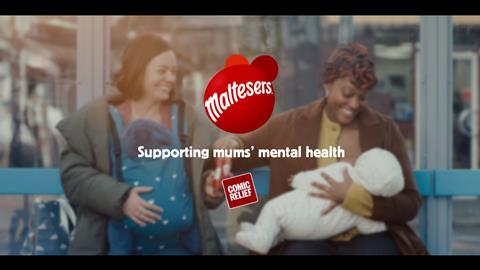 Mars Wrigley UK is refocusing its Maltesers messaging around the emotional wellbeing of mums with the launch of a new campaign in partnersip with Comic Relief, featuring two ads, plus social media activity.
The confectioner claims research shows that more than 1 in 10 women experience mental health issues during pregnancy or within the first year of having a baby and that this can result in 7 in 10 women hiding or underplaying its severity.
Mars has extended its partnership with Comic Relief to a multi-year relationship. Over the next three years, money donated by Maltesers will help Comic Relief support the incredible work carried out by projects like The Happy Mums Foundation and Smile Group, both of which focus on supporting women with maternal mental health issues.
The two ads are inspired by conversations with mums who shared their lived experiences of both the light and the dark side of new motherhood.
The message of the creative will also be mirrored online with the launch of a new social campaign exploring the 'lighter' and the 'darker' sides of motherhood. Through bespoke Giphy stickers, social posts and Instagram stories with powerful, and insightful messages, the campaign will aim to encourage mums to share their personal experiences and break down taboos surrounding important maternal mental health conversations.
While encouraging wider recognition of mums' mental health, the creative celebrates the way so many women have this incredible superpower to share experiences and laugh together through the tough stuff life throws at them. With maternal mental health issues commonly undetected or misdiagnosed, the creative is a gentle reminder that when you see a beautiful new baby, you also see a new mum experiencing a spectrum of emotions too.
Created in conjunction with AMV BBDO, the new adverts are a continuation of Maltesers' commitment to represent the diversity of its customers through its marketing.
Maltesers brand director Leah Dyckes said: "Maltesers has always been at the forefront of UK advertising's drive to do a better job of representing society in everything we do – and this is no different. Be it our own experiences or the experiences of our friends, family or partners, we know that maternal mental health impacts so many women during and after pregnancy. However, it is rarely talked about and widely considered taboo.
"We've learnt to understand the power of representation over the years and are now bringing these learnings to a whole new issue in these ads, but this is only the start. Through our advertising, campaigns and partnerships, Maltesers aims to help women build resilience, by laughing together through the tough stuff. It's what we've always done and what we will continue to do, now and for years to come."