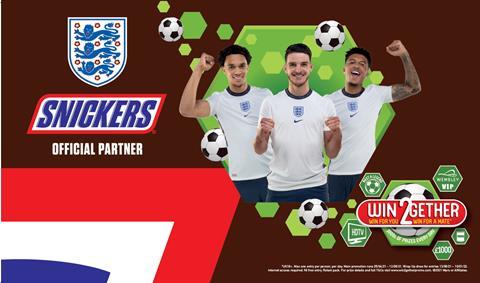 The Win2Gether on-pack promotion from Mars Wrigley UK is giving football fans the chance to win a host of prizes for themselves and a friend. Prizes include: a VIP trip to Wembley Stadium; the chance to meet a footballing legend; and cash prizes of up to £1000. The promotion is running across a range of chocolate and fruity confectionery products.
Brenna Mulholland, bars senior manager at Mars Wrigley UK said: "For the first time ever, Mars Wrigley UK will be sponsoring both the England and Scottish FA teams at the Euros, through an exciting upcoming Snickers campaign. We're ready to get the ball rolling on the excitement and are thrilled to see consumers come together over quality games and treats. While rivalry may be fierce, the promotion this year means that everyone's a winner, as the Win2Gether promotion means that consumers can win rewards for both themselves and a friend.
"We know that sports tournaments have mass appeal, uplift to the nation's mood and are a major consumption moment. Alongside this, friends and family will be able to reunite in summer after a year of being apart, which will be a cause for celebration. As a result, retailers should ensure they're ready to tap into the summer of sport, and the Win2Gether promotion is the perfect opportunity to score big!"
Promotional codes can be found on the back of promotional packs of Mars, Revels, M&M's, Galaxy Minstrels, Maltesers, Twix, Galaxy Ripple, Snickers, Starburst and Skittles. The promotion closes on 12 August 2021.