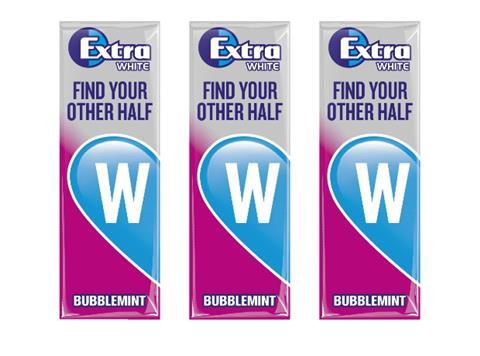 Following on from the success of its 2020 campaign, Mars Wrigley has expanded its 'Find Your Other Half' campaign into 2021, which encourages young people to make successful connections 'in the real world'. Core flavour singles, bottles and multipacks of Extra will prominently feature an initial – urging consumers to pair a pack with partners, friends or family.
Extra's 'Find Your Other Half' will be partnering with ITV2's mega-hit Love Island, to drive penetration with under 25's by tapping into their dating passion points. For 16-34's, the TV series averaged 1.5m TV viewers and a 42% share, which was up in the equivalent slot average the year before by +1.4m viewers (BARB / Techedge, 2020).
The activation acknowledges that connections with others are crucial to consumers under the age of 25 and promoting responsible togetherness is vital to this age group. They might be looking for love, or simply to connect more deeply with friends, but personalisation and the opportunity to share something with someone special is at the core of the campaign, claimed Mars Wrigley, adding that this drives significant purchase intent with shoppers. Last year, Find Your Other Half flashed Bottles grew by +13.3%, while rate of sale (ROS) grew 1.6 faster compared to the standard packaging on Gum Bottle, and twice as fast for Multipack flashes SKUs, stated the firm.
The campaign will also enter the next stage of in-store and multimedia activation, through bigger and better retailer overlays alongside disruptive and engaging visuals. With 51% of shoppers only buying gum when it's visible in store (Nielsen Scantrack data to MAT TYWE 03.10.20), bespoke pre-fill units will also be available to retailers to ensure they can drive strong shopper purchase frequency.
Sasha Storey, senior brand manager, Extra Gum said: "We're thrilled to announce the second phase of our Extra 'Find Your Other Half' campaign. Comprehensive consumer research helps us to understand that being able to refresh on the go is of very high importance to under 25's, and as we increasingly enter the 'real world' in 2021, this shopper mission plays a growing and natural role across the dating arena.
"Last year, we were able to drive ROS through our strong on-pack pull mechanic, and our Love Island sponsorship will help boost penetration still further by creating a strong connection with consumers to convert to purchase."