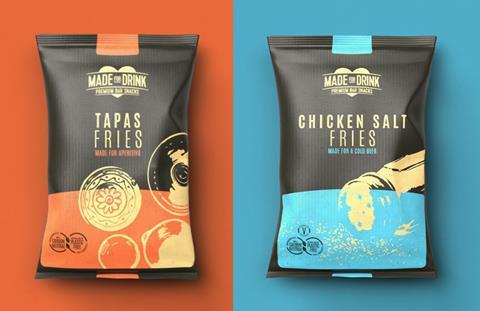 Snack brand Made for Drink has launched a pair of premium crisps.
Chicken Salt Fries (150g) and Tapas Fries (125g) are designed to be paired with drinks as a luxury treat on a night in. Both have an rrp of £3.50.
Both lines launch into the independent sector in March 2021.
Made for Drink founder Dan Featherstone said: "Having taken the time we needed to bed down as a business, team and a brand, we felt 2021 was the perfect moment to build upon a blossoming off-trade/online reputation by taking an ambitious 'next step' into the £1billion potato crisp category. We have shown our ability to bring new foodie shoppers into the snack's category through our unique brand proposition, products and reputation. We've had this idea for a range of 'Fries' products for some time, in fact we've been buzzing about it for ages and they are absolutely delicious. They will be our biggest and best-selling products; they are that good."