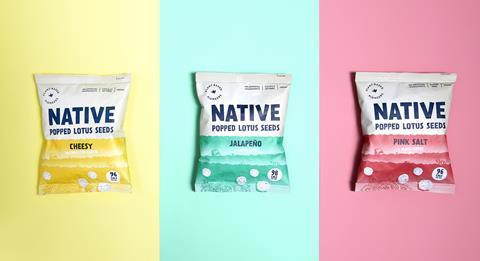 Native Snacks is launching in the UK with a new range of plant-based snacks made using popped lotus seeds.
Available in three Indian-inspired variants - Jalapeño & Kaffir Lime, Pink Salt & Black Pepper and Cheesy - the products are vegan alternatives to potato crisps and popcorn (rrp £1.20 per 22g bag).
Available to the convenience channel via wholesalers Marigold and Taste Distribution, the new range is designed to tap into the growing consumer demand for healthy snacking options, as each pack has less than 99 calories, 60% less fat compared to traditional crisps, and are a source of fibre.
All three flavours are also gluten-free, sugar-free, halal and contain no genetically modified organisms (GMO), monosodium glutamate (MSG) or artificial ingredients.
The popped lotus seed snacks are made from the seeds of the lotus flower, which is a member of the water lily family and known for being naturally rich in essential vitamins and minerals
Charlie Bowker and Darcy Ogston, co-founders of Native Snacks, said: "With consumers being more adventurous than ever and a growing change towards plant-based diets, we truly believe that Native Snacks is correctly placed to become the next globally loved snack brand, while taking our consumers on a snacking journey around the world."
To support the new products, Native has partnered with the Bihar Development Foundation U.K. to donate 1p from the sale of each Native Snack to support health camps in Bihar, India.