Snacking brand Guruji is set to launch its popped lotus seed snacks into the UK convenience sector.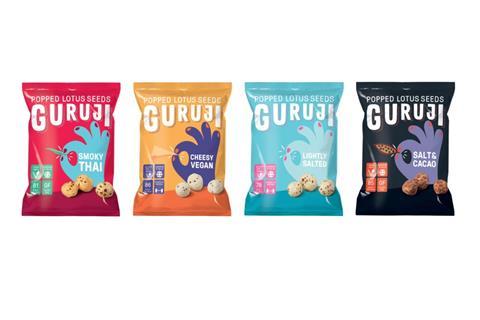 Lotus seeds are commonly recognised in Chinese and Indian cultures for their nutritional content, and have recently hit UK shelves in a popped format.
Designed to offer consumers an alternative to popcorn and crisps, Guruji's product range includes four variants: Smoky Thai, Cheesy Vegan, Lightly Salted and Salt & Cacaon (rrp £1.70 per pack).
Founder Akhil Kumar, founder of Guruji, said: "With Guruji, we have taken all the health properties of the lotus seeds and made them exciting for a Western audience, by layering them with punchy gourmet flavours specifically designed for this market.
"While not first to the UK market, we have a secure supply chain which provides premium, consistent lotus seeds, so we are confident that every pack of Guruji delivers."
Guruji's popped lotus seeds are handmade in the UK and hand-farmed using natural water supplies. The line-up is also gluten-free, vegan, low in calories and a source of plant-based protein.