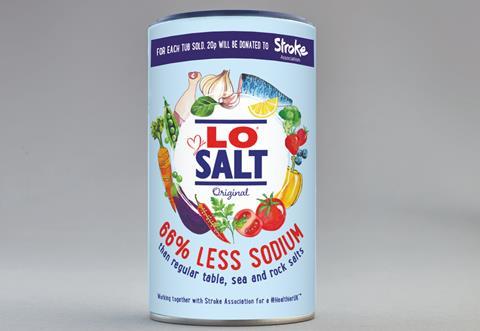 LoSalt has raised £40,000 for the Stroke Association via an on-pack promotion, donating 20p for every tub of product sold between July and October.
The brand formed a partnership with the Stroke Association last year to encourage people to lower their risk of stroke and other serious conditions by making more informed choices to create a healthier nation. The funds will be used to help stroke survivors rebuild their lives.
In addition to the on-pack promotion, the partnership involved sponsoring the Stroke Association's annual 'Give a Hand and Bake' campaign and supporting the charity to encourage a #HealthierUK.
Marketing director for LoSalt Caroline Klinge said: "A key factor in the success of this partnership is that we are both communicating the same message - to lower sodium intake to help prevent high blood pressure. With stroke being the fourth biggest killer in the UK, there's never been a more prominent time to raise awareness. We are delighted that our on-pack promotion has raised money for such a worthy cause."
Chief executive of the Stroke Association Juliet Bouverie added: "By partnering with LoSalt, we are using our combined strengths to help people be more aware of the options that are available to them and the fact that small changes to your lifestyle can make a huge difference to your health. After a very rewarding first year of working with LoSalt, we're hoping that this is just the beginning of a long-term relationship."