Artisan desserts producer LillyPuds has added a Great British Favourites range to its collection of all year round puddings.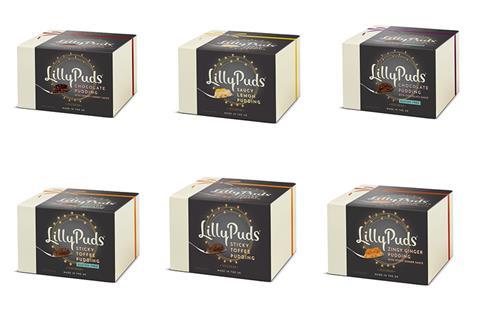 Designed to appeal to people who don't want traditional fruity puddings, the new Saucy Lemon Pudding; Chocolate Pudding with Cheeky Cherry Sauce; and Saucy Zingy Ginger Pudding with Sticky Ginger Sauce offer an alternative for special occassions such as Christmas.
LillyPuds has also created two new gluten free sponges: Gluten Free Chocolate Pudding with Chocolate Sauce; and Gluten Free Sticky Toffee Pudding, giving those on special diets another choice in a 454g format (rrp £7.95).
Alison Lilly, founder of LillyPuds, said: "Although our traditional puddings have converted many, we know there are some people who still want something lighter or different at Christmas, which is why we've launched the Great British Favourites range – not forgetting, of course, that our Great British Favourites are not just for Christmas.
"We've created a delicious selection that would be a perfect end to a festive feast or boxing day lunch, whilst our gluten free puddings ensure that there's something for everyone," she added
To complete the range, LillyPuds also offers a Sticky Toffee Apple Pudding product and three sauces: Salted Caramel Sauce; Sticky Toffee; and Brandy Butter, that can be used to top a range of desserts.