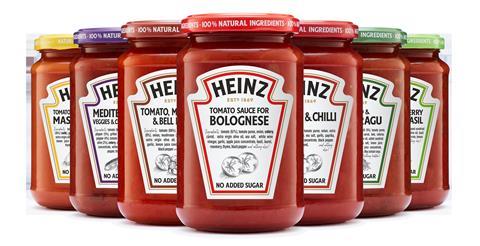 Kraft Heinz has entered the pasta sauces category with a new range of high-quality, ready to use Heinz Pasta Sauces.
The seven-strong range include Tomato & Lentil Ragu; Chunky Tomato & Mediterranean Veggies; Tomato, Mushroom & Pepper; Tomato Sauce for Bolognese; Sundried Cherry Tomato & Basil; Tomato & Chilli, and Tomato and Mascarpone & Grana Padano Cheese.
The launch is being supported with a 360-degree campaign across TV, digital and OOH with the tagline "Ridiculously Late, Ridiculously Good." Heinz will also support its customers in-store with disruptive activation highlighting a consumer competition.
Georgiana de Noronha, President Northern Europe at Kraft Heinz, said: "We thought it was the right time to launch Heinz Pasta Sauces, with cooking and pasta sauces receiving a boost in sales in 2020 thanks to consumers experimenting more with meals at home. The category is estimated to see 19.2% rise in value sales growing to £962 million."