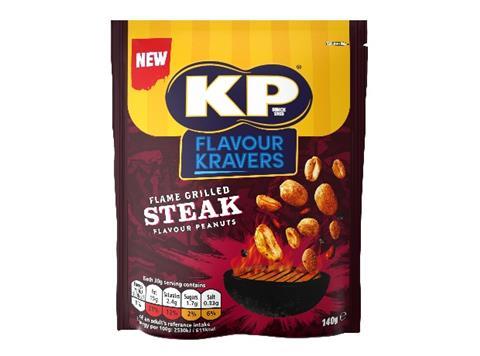 KP Snacks has announced the launch of KP Flavour Kravers.
Launching in three flavours: Flame Grilled Steak, Smokin' Paprika, and Fiery Caribbean Jerk Sauce, the range comes in 140g sharing packs with an rrp of £2.50.
The new range is supported by an £150,000 PR and social investment, encouraging consumers to "awaken their inner Flavour Kraver".
Marketing manager at KP Snacks, Jenny Blanco Barcia, said: "We know that across CSN, taste is the number one category driver and our KP Flavour Kravers range has been created to bring deliciously bold new flavours to the Nuts segment. The new range capitalises on the growing trend of meaty and spicy flavours to drive interest from consumers and fuel an exciting snacking experience, whilst bolstering sales for retailers.
"KP is the UKs number one nuts brand, performing particularly strongly as a mainstay of the in-home sharing occasion. We know there's room to grow consumption, particularly amongst young adults, with a unique range that appeals to flavour cues traditionally associated with other mainstream sharing snacks."